Phosphorescent Pigments
Lumilux® Green SN-F2 (50095)
Main use: Long afterglow products according to DIN 67510 part 4
Overview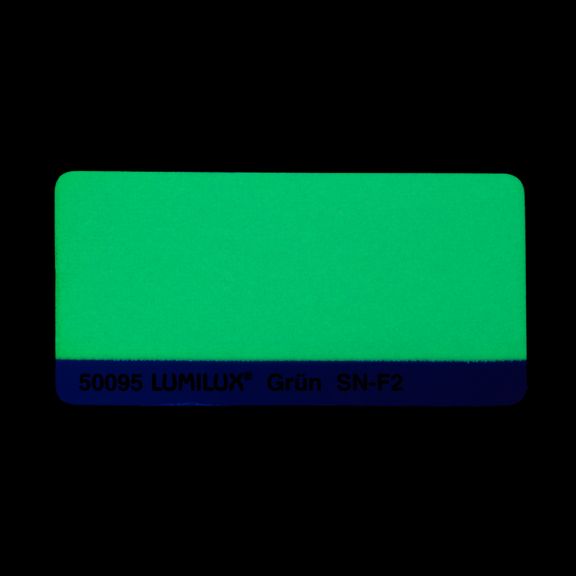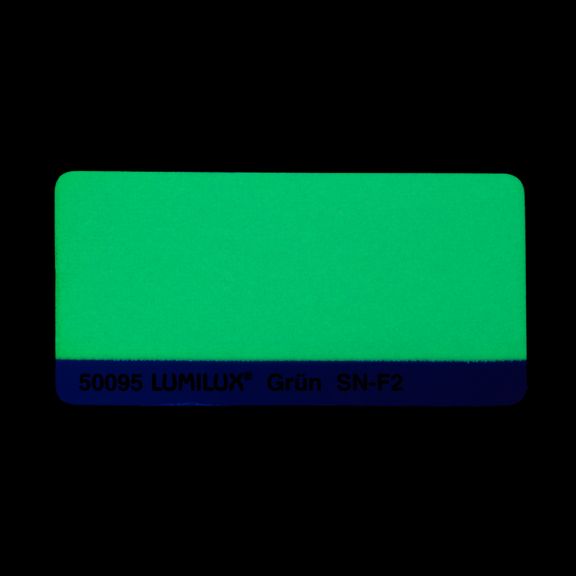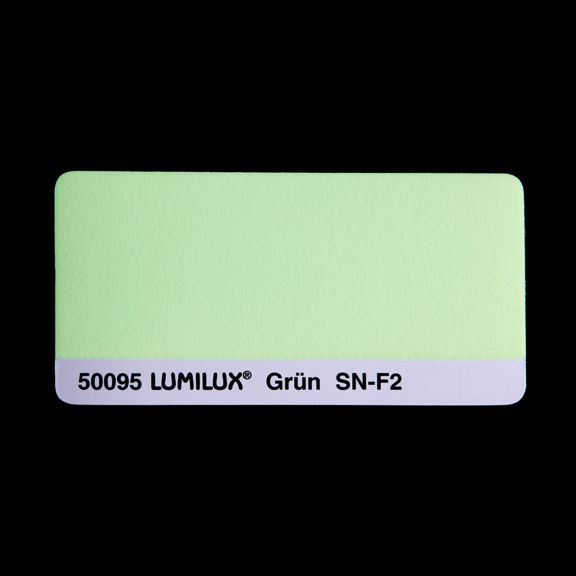 Lumilux SN-series are phosphorescent pigments that store energy when exposed to the sun or an artificial light source, and emit light long after the source has been removed. They are strontium aluminate-based, which feature significantly higher initial brightness and longer afterglow periods than zinc-sulfide based products. They meet UL and CE safety standards.

Honeywell Lumilux™ pigments have been a mainstay of the safety and security industry for more than four decades, consistently meeting the everchanging landscape of rigorous brightness standards required in safety, signage and authentication applications.

We offer the industry's largest portfolio of phosphorescent and fluorescent pigments and taggants that can be used in a wide variety of applications, including:

• Safety and signage
• Automated sorting processes
• Watch dials
• Injection-molded toys and novelty items
• Paints and coatings
• Authentication applications
• Other specialty applications


General Information
Application
CAS Number
Compatibility

Insoluble in organic solvents and decomposed by water and acids

Maximum Particle Size
Particle Texture/Size
Product Type

Luminescent/Phosphorescent Pigments Degrees Celsius

Typical Uses

Solvent-based paints and inks

Thermoplastics

Thermosetting plastics
Physical Properties
Boiling Point/Range
Brightness

270 after 10 minutes

40 after 60 minutes

550 after 5 minutes

Chemical Composition
Color
Density
Flashpoint
Luminance DIN 67510-1

270 mcd/m2 after 10 minutes

40 mcd/m2 after 60 minutes

550 mcd/m2 after 5 minutes

Melting Point/Range
Odor
Particle Size Distribution
Partition Coefficient
pH
Phosphorescence Color
Physical Form
Screen Analysis

< 1 % oversized particles on 125 μm testing screen

Solubility

Organic solvents insoluble
Safety Information
Chemical Stability
Flammability
Ignition Temperature
Incompatible Materials
Self Ignition
International Transportation
Chemical Class
Packing Group
UN Number
General Information
Compatibility

Insoluble in organic solvents and decomposed by water and acids

Product Type

Luminescent/Phosphorescent Pigments Degrees Celsius

Typical Uses

Solvent-based paints and inks

Thermoplastics

Thermosetting plastics
Physical Properties
Brightness

270 after 10 minutes

40 after 60 minutes

550 after 5 minutes

Luminance DIN 67510-1

270 mcd/m2 after 10 minutes

40 mcd/m2 after 60 minutes

550 mcd/m2 after 5 minutes

Particle Size Distribution

Screen Analysis

< 1 % oversized particles on 125 μm testing screen

Solubility

Organic solvents insoluble
International Transportation
Particle Texture/Size : Middle (D50 20 - 30 µm)
Maximum Particle Size : 24, PSD50
Compatibility : Insoluble in organic solvents and decomposed by water and acids
Typical Uses : Solvent-based paints and inks|Thermoplastics|Thermosetting plastics
Product Type : Luminescent/Phosphorescent Pigments Degrees Celsius
Application : Ink|Paint|Plastic
Particle Size Distribution : < 24 μm, PSD50
Phosphorescence Color : Green
Partition Coefficient : Not applicable
Luminance DIN 67510-1 : 270 mcd/m2 after 10 minutes|40 mcd/m2 after 60 minutes|550 mcd/m2 after 5 minutes
Chemical Composition : Strontium Aluminate
Melting Point/Range : > 1,300 °C
Boiling Point/Range : Not applicable
Screen Analysis : < 1 % oversized particles on 125 μm testing screen
Solubility : Organic solvents insoluble
Flashpoint : Not applicable
Brightness : 270 after 10 minutes|40 after 60 minutes|550 after 5 minutes
Density : 3.6 g/cm3 at 20 °C
Incompatible Materials : Acids|Water
Ignition Temperature : Not applicable
Chemical Stability : Decomposes with water
Self Ignition : Not auto-flammable
Flammability : Not flammable
Brochure
Name
Description
File Size
Date
Size
Authentication Solutions Document Security
application/pdf 485.56 KB
10/31/2023
485.56 KB
Processing Instructions
application/pdf 1.18 MB
10/31/2023
1.18 MB
Lumilux® portfolio includes cutting-edge solutions for currency, government documents, brand protection, safety, novelty applications, all reflecting longstanding, advanced expertise in security pigments, detection solutions.
application/pdf 1.86 MB
10/31/2023
1.86 MB
Data Sheet
Name
Description
File Size
Date
Size
Main use: Long afterglow products according to DIN 67510 part 4. Useable for: Solvent-based paints and inks, thermoplastics, thermosetting plastics.
application/pdf 27.86 KB
10/31/2023
27.86 KB
Name
Description
File Size
Date
Size
Name
Description
File Size
Date
Size